Downtown Daily Tours
Please contact HWSF at (505) 660-8199 to reserve a PRIVATE Historic/Cultural Tour of Santa Fe and Canyon Road Art Events.
For your convenience, you may
reserve your space in advance March through December ONLY
.
$18/person (minimum 3 persons) or $25/person (2 persons)
including entry fee to Loretto Chapel - under 16 free with parent. No reservations required. Cash only at time of tour. Please
reserve your space in advance
if you wish to pay by card.
We are located in the Plaza Galeria next to the Santa Fe Visitor Center.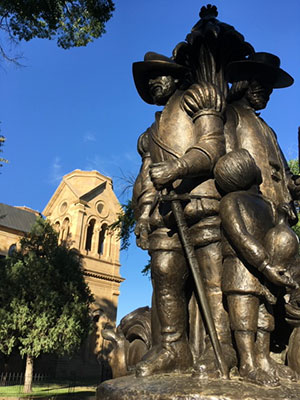 Tours are approximately one hour & 45 minutes.
MARCH - DECEMBER
HOTEL DEPARTURES
PLAZA GALERIA TOURS
10:00am

Located at 66 E. San Francisco across from the Historic Plaza in Plaza Galeria (at the podium) Next to the Santa Fe Visitor Center
This is the tour chosen by
TAUCK WORLD DISCOVERY, The National Trust for Historic Preservation, and Worldwide Travel Companies